Cosme Proenza: The Man Behind the Paintbrush
Written by

Claudia Mara Cruz Escalona

Published in Culture
Hits: 619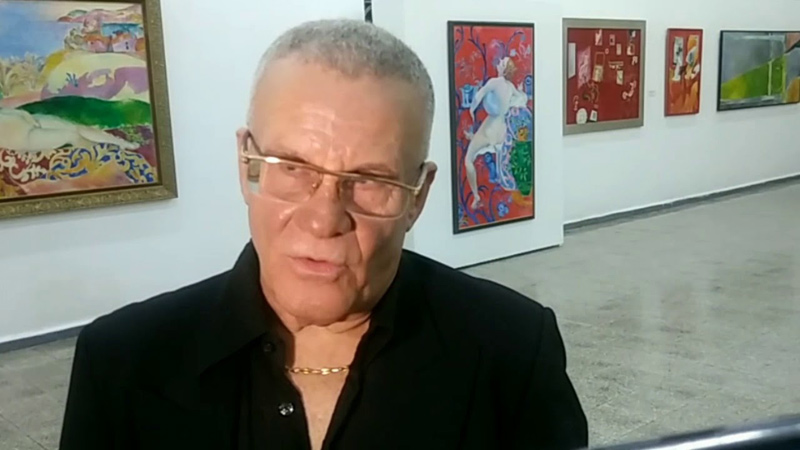 The Cosme Proenza art gallery in Gibara opened during the last edition of the International Film Festival held this year in this coastal town of Holguin.
Personalities of art and culture, journalists and people in general fill the place that although of limited space, is great and rich in value and art ... Here, the renowned artist agreed to be interviewed. A few questions are enough to know the man behind the paintbrush.

The style of his painting ...
The theme of women through the history of art, from the copying of iconic paintings and the way in which I have gradually brought that icon to different ways of seeing it, I think that makes the difference in my work. I don't seek to have a personal style, as all this process has been enriched in terms of appearance over the years and artistic maturity. Without pretensions of style I have the pleasure of painting, but also to speak, think and say what happened in the tradition of Western art over the centuries.

Ties that tie ...
Gibara is for me, even before the festival, a place of rest, a haven. When Humberto Solas told me that this city had a magic light, I said: Humberto, at noon? And he told me: Also! And it is that Gibara has that gift. I like it as a town, as a quiet place, as a heritage of a culture that even the city of Holguin does not have.

I refer to a visual culture, the architectural culture and the culture of the people that inhabit it. Gibara has a very intense sense of ownership, but has something else as well. With the passing of time, investigating and asking my family, I discovered that there was a painter from the area, named Hernández Cáceres, family of my grandmother Eloina Cáceres de Potrerillo. At last, a relative who painted in Gibara.

Another tie that binds me to this wonderful town is the support provided to me for the opening of a gallery in this house of the 19th century, part of a very vast cultural heritage.

Here, I preserve works from my collection and others that will remain in the Museum of Decorative Arts of the city as a loan for the necessary time.

Although the space is small, we have always taken advantage of it; we have even brought samples from the national museums without any discrimination because of being in this place. There are many things that bind me to this town, because it is also part of Holguin, site chosen to do my work, in which I am and I hope to be for a long time.
New projects in sight ...
I am working on issues that at my age are much more interesting than painting, more exciting. At this point in my life I need to be passionate in projects such as that of the "Parque de los Tiempos ", for example.

Now I am involved in a project that I had in mind since I was young: The Cathedral of Holgun. It always bothered me that this city had a cathedral so neglected, so with the support of the Church itself and many good people we are working to restore values of this iconic and representative construction of our city.

I am also working in the restoration of the image of the Virgin of Charity, a work of more than 200 years, and I have the honor of having it in my house. I made the commitment to leave it ready as soon as possible.

Projects fascinate me. I do not care how long they last, whatever they cost. My creations are the contribution I can give to the culture of my province. I thank God for the hands that I was granted to paint. / Aldia.cu