Loma de la Cruz, Symbol of Holguín
Written by

Carlos Rafael

Published in Photo story
Hits: 717
La Loma de la Cruz, located at 261 meters above sea level, is a small hill that preserves history and beautiful legends of Holguín. Symbol of the city and witness of important sociocultural celebrations.

It takes its name from a wooden cross placed at the top of the hill, a protective symbol for many people who pay promises or an original ornament for others. The first cross was placed in 1790 and was taken there by the Friar Francisco Antonio de Alegría, prior of the Franciscan community of Holguín.

From that moment it stopped being known as the Bayado hill to take its current name.

At the beginning of the 20th century, on the initiative of a neighbor named Oscar Albanés, restoration works were carried out on the hillsides, at the base and the top. The restoration was carried out by the architect Vicente Biosca, concluding on May 3, 1950, when the second cross was placed, since the first one was already much deteriorated. These works were financed by the villagers, who appealed to raffles, collections, festivals and other ingenuity.

The third cross was placed in the first years of the nineties, after an unexpected lightning that destroyed the second cross.

This cross, the one seen today, was built from Caguairán, like the original from 1790, because this precious wood was abundant in the forests of the Bariay region.

The Loma de la Cruz, with 458 steps, has intermediate rests including benches that are in the middle of the ascent.
In 1900 The Fray Francisco A. climbed the hill with the cross and established there the Romerias de Mayo, a Spanish religious and traditional festival where the date is remembered that St. Helena, mother of Emperor Constantine the Great, died on Calvary tied to a wooden cross.
Each year the population went to La Loma de la Cruz, some to fulfill promises, others to celebrate the festivity.
There, a Mass was celebrated and from it the festivities began in which one played, danced and ate until the early morning of the next day.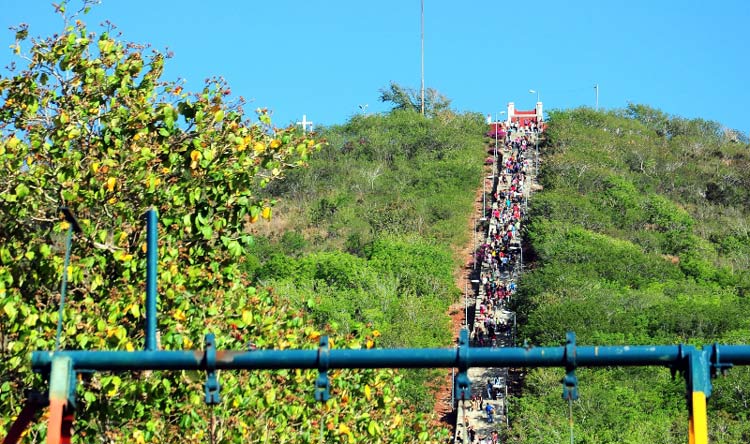 On September 21, 2015, Pope Francis, in his visit to the city of Holguín, blessed the city from the Loma de la Cruz.