Holguin: Yordan Manduley to Can-Am Baseball League
Details

Written by Redaction AHORA
Published Date
Hits: 903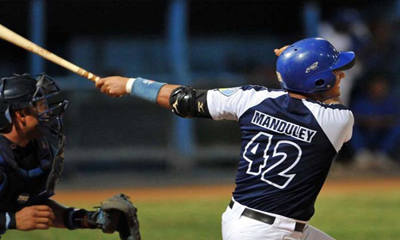 Short stop Yordan Manduley from the Cuban province of Holguin and baseball players Yurisbel Gracial (Matanzas), Lazaro Blanco (Granma), Miguel Lahera (Artemisa) and Alexander Ayala (Camaguey) signed their contracts yesterday to play in the Can-Am Baseball League.
Gracial, Manduley and Blanco will defend the colors of the Quebec Capitales; while Lahera and Ayala will play for the Trois Rivieres Eagles, in a competition that takes place in cities of Canada and the United States.
The signing ceremony at Havana's Latinoamericano Stadium was also attended by Higinio Velez, president of the Cuban Baseball Federation; Michel Laplante, president of the Quebec Capitales, and Trevor J. Stanton, manager of the Trois Rivieres Eagles.
Laplante said he was satisfied by the possibility of counting again in his squad with Cuban players and assured that they continue making the necessary steps to hire outfielder Julio Pablo Martinez (Guantanamo).
Related to the latter, he noted there were delays in the process of visa authorization, a situation that they hope to solve as soon as possible to guarantee his services.
Gracial, meanwhile, explained that this will be his second season in the Can-Am League and hopes to maintain or improve his performance of last year.
He added that for him and his team-mates will be a great opportunity to face that baseball because it will allow them to develop themselves as players and acquire new experiences.
I am ready to play in third base, shortstop or any other position, my desire is to help my team in whatever it takes, he stated.
In addition, Ian Rendon (Havana), Noelvis Entenza (Havana), Yorbis Borroto (Ciego de Avila) and Yulexis La Rosa (Villa Clara), who will play in the Intercountry Baseball League (IBL), with a stage in the Canadian province of Ontario, also signed their contracts this Friday. / ACN